Sock Perfect® socks are made with relief in mind.
Diabetic socks that are non-binding and non-restrictive that are not only for pain relief, but also are amazingly comfortable.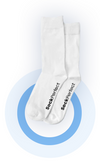 Our Diabetic Socks are Special...
Diabetic socks are designed for anyone that experiences problematic issues with their feet and legs. Non-restrictive socks that help eliminate problems with pain causing calf marks, swollen feet and legs and nerve issues. 
SHOP NOW


When Will I Receive My Package?
All orders take 1-3 business days to process after your order is placed. Thereafter, packages will take 2-7 business days to reach you
What If I Receive the Wrong Socks?
If you have received something other than what you were expecting, please email us at support@sockperfect.com within 10 days of receiving your socks. If you do contact us after the ten-day period.
Where is Sock Perfect Located?
We are based out of Portland Oregon with Warehouses in Indiana. We are a USA Company.